Posts for tag: periodontal disease
By Lyons Family Dentistry
March 18, 2013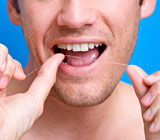 Your gums are red around the margins and bleed whenever you brush or floss but there's minimal to no pain... You: (select the most appropriate answer[s])
are brushing or flossing too vigorously
have an accumulation of dental plaque where the teeth meet the gums
are using a toothbrush that's too firm
are experiencing early signs of gum disease
should see your dentist if this persists for more than 6 months
Kudos if you picked b) and d). The most common cause of bleeding gums is the accumulation of dental plaque (bacterial deposits) at the gum line, which is an early sign of periodontal (from the Latin "peri" – around, and the Greek "odont" – tooth) disease. It is usually painless so people tend to underestimate the risk of allowing gum disease to progress and become a more significant problem.
It's a common misconception that bleeding gums are caused by brushing or flossing too vigorously or using a toothbrush that's too firm. This is sometimes the case, but the abrasion would probably cause noticeable pain. Instead, it's likely that you're not brushing and flossing effectively enough, allowing bacterial deposits to accumulate at the gum line and feed on food particles that haven't been adequately flushed from your mouth.
The bacterial deposits form a whitish film that is hard to detect when you look in the mirror. But you will notice bleeding and redness and eventually inflammation of the gums — an immune response to disease-causing bacteria that flourish in the plaque. As the biofilm grows, with time it also hardens (calcifies), making it increasingly difficult to dislodge. Eventually, only professional cleaning can remove it and sometimes antibiotics are needed. If no action is taken, gum disease will progress, and eventually cause loss of the underlying bone that anchors the teeth.
There are other reasons that gums may bleed, such as elevated hormone levels in women, a side effect of certain medications, or a systemic (bodily) disease. Whatever the cause, it's important to get a professional diagnosis promptly and take appropriate therapeutic action as needed. Optimally, with good oral hygiene and regular checkups, you can avoid this problem entirely!
If you would like more information about preventing or treating bleeding gums, please contact us or schedule an appointment for a consultation. You can also learn more about this topic by reading the Dear Doctor magazine article "Bleeding Gums."
By Lyons Family Dentistry
May 06, 2012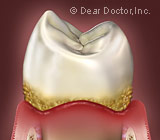 Periodontal (gum) diseases are sometimes called "silent" because those who have them may not experience painful symptoms. But certain signs point to the existence of these common diseases. If you are experiencing any of the symptoms below, it is time to visit our office so these problems can be treated before they lead to serious infection and loss of teeth.
Gums that bleed during the brushing of teeth. Some people think that gums bleed from brushing too hard. In fact, healthy gum tissues will not bleed with normal brushing. The usual cause of bleeding gums is an accumulation of dental plaque in the areas where your teeth meet your gums. Plaque is a film of bacteria, called a biofilm, which accumulates on your teeth. If you are not brushing and flossing effectively, plaque irritates your gum tissues and causes an inflammation and swelling called gingivitis. This causes your gums to bleed easily on contact with a toothbrush or floss.
Gum tissues that appear red and swollen. If plaque is allowed to accumulate for 24 hours or more, the inflammation in your gum tissues becomes chronic. The continuous presence of bacteria makes it impossible for your body's natural defenses to fight the infection. Chronic inflammation leads to a breakdown of the normal attachment between the teeth and the gums, causing the formation of "pockets." Inside these pockets the infection continues to attack the tissues that support your teeth. Eventually this can lead to a breakdown of the bone that surrounds your teeth.
Bad breath. Bad breath is another sign of accumulated plaque. The bacteria in plaque may emit gases that have an unpleasant odor.
Gums that are sensitive to hot or cold. Chronic inflammation can also cause the gums to recede, exposing the roots of the teeth in which nerves may be close to the surface, leading to sensitivity to heat and cold.
Teeth that are getting loose, or a painful area in the gums. If you experience these symptoms, the infection has progressed a long way from the "silent" stage. It is time to seek immediate professional help.
If you answered "yes" to any of the above questions, a professional dental examination is in order. With daily removal of plaque by effective brushing and flossing, along with frequent professional cleanings to remove any plaque that you were unable to catch, you will go a long way to preventing periodontal disease. Also, be aware that smoking tends to mask the effects of gum disease. Generally, if you smoke your gums will not bleed when brushing or flossing, nor will they show signs of swelling.
Contact us today to schedule an appointment to discuss your questions about gum disease. You can also learn more by reading the Dear Doctor magazine articles "Bleeding Gums" and "Warning Signs of Periodontal (Gum) Disease."
By Lyons Family Dentistry
March 11, 2012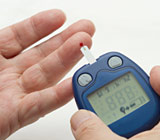 Periodontal (gum) disease, though it may be invisible to everyone but your dentist, can have a powerful effect on your entire body. Not only is it dangerous to your teeth and jaws, but it can increase your risk of heart attack and stroke, cause preterm births in pregnant women, and affect blood sugar control in diabetics.
Diabetics are our subject for today. Symptoms of diabetes include abnormally high levels of glucose (a form of sugar) in the blood, leading to frequent urination, excessive thirst, blurred vision, unexplained weight loss, and loss of energy. The disease can also cause severe complications in various parts of the body.
Normally, glucose, your body's main energy source, is kept under control by a hormone called insulin, which is made by an organ called the pancreas. In type 1 diabetes, a person's pancreas does not produce enough insulin to deal with all the glucose in his or her blood. In type 2 diabetes — a condition related to increased age, physical inactivity, overweight, and heredity — the pancreas may produce enough insulin, but the body is not able to use it effectively. This condition is called insulin resistance.
People with type 1 diabetes need insulin to survive. Type 2 may be treated with exercise, diet, medications, and insulin supplements.
Serious complications of diabetes range from kidney failure, blindness, and nerve damage to infections that do not heal, gangrene and amputation of limbs.
Diabetes and periodontal disease seem to have reciprocal effects on each other. Diabetics are more likely to have periodontal disease than non-diabetics; and those with periodontal disease are likely to face worsening blood sugar control over time.
Periodontal disease (from "peri", meaning around and "odont", meaning tooth), is caused by dental plaque — a film of bacteria that settles on your teeth and gums every day. It's what you remove with daily brushing and flossing. Any bacteria that remain cause inflammation, which can lead in the worst cases to loss of bone and eventual loss of teeth.
The close relationship of diabetes and periodontal disease probably results from changes in the function of immune cells responsible for healing. Inflammation is a part of normal wound healing — but chronic or prolonged inflammation can destroy the tissues it was meant to heal. This may be a major factor in the destructive complications of diabetes.
Many of these complications begin in the blood vessels. Like the eyes and the kidneys, gum tissues are rich in blood vessels. Gum tissues are also under constant attack from bacteria. If you are a diabetic, effective plaque control, along with regular professional dental cleaning, can have positive effects not only on periodontal disease, but also on control of your blood glucose level.
Contact us today to schedule an appointment to discuss your questions about periodontal disease and its connections with diabetes. You can also learn more by reading the Dear Doctor magazine article "Diabetes & Periodontal Disease."